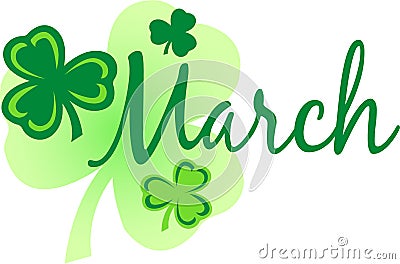 "It was one of those March days when the sun shines hot and the wind blows cold: when it is summer in the light, and winter in the shade."
― Charles Dickens, Great Expectations
FInally the election uproar and Trump hating is beginning to die down after the first 30-days. Voters beginning to feel a light easing in anxiety, despair as our president initiates his economic, tax reform, and health plans and foreign policy. Lots to do….lots to do. But the rioting has eased.
Welcome to March- the month of the Irish.

I'm Irish and full of the blarney.
I have often said that on St. Patty's Day everyone is Irish. The wearing of the green, kissing the blarney stone and lots of beer, corned beef and cabbage. Which is odd becuase my Irish ancestors were so poor they could not afford to have Corned Beef, mostly boiled potatos and cabbage with shreds of corned beef or other meat scrappings thrown in. My ancestors came to America  during The Great Famine (Irish: an Gorta Mór, [anˠ ˈgɔɾˠt̪ˠa mˠoːɾˠ]) or the Great Hunger  a period of mass starvation, disease, and emigration in Ireland between 1845 and 1852. They settled in NY, Boston and Chicago. Mine in Chicago. We were the Mexicans of our day and treated even worse than illegal Mexicans. My ancestors worked both sides of the aisle- mafia under Bugs Moran and cops. My grandmother, as a kid traveling West on a Wagon Train remember the wagon-train being attacked by indians of the great plains. I watch the movie Boondock Saints 1 & 2 every St. Patrick's Day.
March is also the month of March Madness, also known as the NCAA Basketball tournament and you will here the word "brackets" thrown about a lot in the media.
http://www.ncaa.com/news/basketball-men/article/2017-03-01/march-madness-dates-schedule-times-key-numbers-2017-ncaa
March is also the month of spring, the March equinox on the 20th or 21st marks the astronomical beginning of spring in the Northern Hemisphere and the beginning of autumn in the Southern Hemisphere. Punxsutawney Phil, the groundhog, saw his shadow this year so six more weeks of winter brings us to right around March 21st. The name of March comes from Latin Martius, the first month of the earliest Roman calendar. It was named for Mars, the Roman god of war who was also regarded as a guardian of agriculture.
Martius remained the first month of the Roman calendar year perhaps as late as 153 BC.
I have been notified by Facebook that I can no longer use my personal FB page as my business page.
Starting immediately, I will be switching over to my official business page facebook.com/KilburnHallWriter/ which has more tools and is more user friendly for my business needs.
Already, some 2770 friends have liked this page. If you haven't received an invite please visit me at: facebook.com/KilburnHallWriter/ and I hope to see you there. Lots of exciting book projects I am wrapping up and new ones begin.
Here are a few new book projects to look forward to:
If you were a fan of Stephen King's DUMA KEY you will love my new book CROOKED ISLAND.  If you liked Michael Crichton's NEXT you will love my new book MORPHED.
And if you like LOST HORIZON by James Hilton you will love my break-a-way novel KUN LUN.

When my mentor Michael Crichton passed away in 2008, he left behind a massive
collection of papers: outlines, notes, and several incomplete novels. In the years since his death, Crichton's widow Sherri has been combing through those files, Two books have emerged from Crichton's files over the years. The first was a completed book: Pirate Latitudes, about 17th century Caribbean pirates, which was released in 2009. A second was Micro, a partial
manuscript that was completed by Richard Preston (author The Hot Zone), published in 2011. Unlike Micro, Dragon Teeth appears to be largely finished, and won't require the use of an additional author. Dragon Teeth is set to be published by HarperCollins in May 2017.
http://www.theverge.com/…/michael-crichton-new-book-dinosau…
If you liked Michael's book NEXT – you will love my new book MORPHED. Science and and technology are "morphing" at such an accelerated rate it may be beyond our ability to regulate or control it.
https://kilburnhall.wordpress.com/morphed-3-2/
The sound of a Mary Poppins reboot after the historic fight between author P. L. Travers and Walt Disney sounds something quite atrocious and 'dociousaliexpilisticfragicalirupes'
http://www.usatoday.com/story/life/entertainthis/2017/03/03/emily-blunt-mary-poppins-returns-first-look-photo/98704048/
My dear Emma,
You are simply going to shine in this.
Your career is about to reach new heights. Don't pay attention to the critics- (braless on cover of Vanity) it's nothing but noise.
Watch: https://www.youtube.com/watch?v=SjAzn1NV7Nc
As traditional publishing fades into the twilight and the brave new world of online publishing takes hold, how do you get people to buy your book when you may be a small fish in a vast ocean of online publishing where thousands of new titles are released every day? The answer: WORD OF MOUTH. Get people who buy your book to tell other people, lots of other people when they like your book. Author's have no problem with word of mouth if you have written a book that someone who shelled out big bucks absolutely hates. The 'haters' will tell everybody and I mean everybody. So, the time to get people talking "up" your book is before you publish, when they're about to buy your book, while they're reading it, and especially after they finish it.
My e-books and 6 x 9 paperbacks are available through all major outlets like Amazon (Kindle) Barnes Nobles, (Nook), Kobo, Apple iBooks. 
If you are a new visitor to my author website and you see a book you think you might like, please do leave a message indicating which book you are interested in reading. Who knows? You might even receive a free copy in a give-a-way promotion or simply for asking. But do come back to my site often to check for the latest upcoming publications. You're going to love your new Kilburn Hall Books. A world of entertainment awaits! And thanks for checking out my website.
~KILBURN HALL
Here's a few new and exciting book covers to look forward to in 2017-2018.